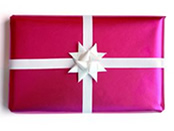 Costumes for gifts - gift wrapping tips
Who says gift wrap has to be paper? These holiday packages, swathed in shimmery satin and organdy fabrics, look almost too good to open. The satin wraps work best for small packages, since the material becomes harder to manage in larger amounts. The sheer organdy (see page 124) lets the wine vintage show through.
Gift-Getting Tips
Don't volunteer the game rating. If asked, always answer with "I think it's Teen." The good part is that most of the best games actually are rated Teen or Everyone.
All wrapped up: give your packages homespun personality
Simple backgrounds--polka dots, stripes, plain white and red paper, or even clear plastic bags--make great backgrounds for creative touches. Pair dots with plaid ribbon; tie on multiple ribbons; embellish a tag with a string of beads hung across a cut-out "window." An oversize gift tag dresses up a bottle presented in a velvet bag.
Keepsake Wraps - gift wraps that double as presents
A bottle of wine wrapped in a beautiful silk or satin scarf is a luxurious gift. Center a wine bottle on a 36x16-inch scarf. Draw the ends of the scarf up to the top, and tie each pair of opposing corners into double knots. Add a tassel and gift tag around the neck.
Seasonal style - making handmade gift wraps and cards
Half the fun of the holiday season is making things yourself, from cookies to gifts to decorations. Here are two projects to enhance your holidays: fancy wrapping papers, made from recycled newspapers, to add instant glamour to any gift, and greeting cards featuring your own artwork.
Dilemma of the month: I want to get great holiday gifts for all my friends but can't afford it. Should I just give each of them something small?
Take a group picture, then frame a copy for all your pals. If you can't afford that, you can give your BFF something special but make cards for everyone else. After all, it's the thought that's most important.
Electronics boutique: how to save money on tech gifts
If big-ticket buys like digital cameras, personal digital assistants (PDAs) and LCD TVs are on your shopping list, you'll need a plan to find the best deals. Step one: Decide how high-tech you want to go. You want to be sure your investment won't be obsolete as soon as you leave the store. Some advice to help you shop smarter: